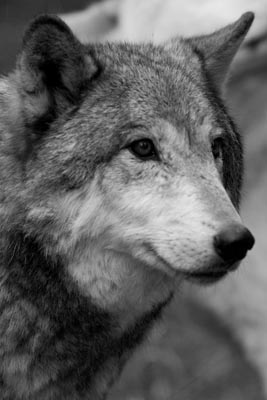 It is with deep sadness that we have to inform you that on Monday, November 7, 2005, our dear friend, Amani, passed away due to complications from an inoperable terminal illness. After extensive tests and numerous consultations with the Pack Veterinarian and the Resident Veterinarian at Washington State University, there was no humane choice left except to put Amani to rest. Amani was 13 1/2 years old and was one of the original members of the Sawtooth Pack/Wolves of the Nez Perce - The Elder Eight. He will always be remembered for his independence and his whimsical expressions with his ears laid out flat - lovingly nicknamed "Airplane Ears" by all of us that lived and worked with him. His name means "To Speak The Truth" in Blackfoot language. Amani will always be remembered and loved by the thousands of people he touched with his wonderful Spirit. We will all miss you dearly Amani.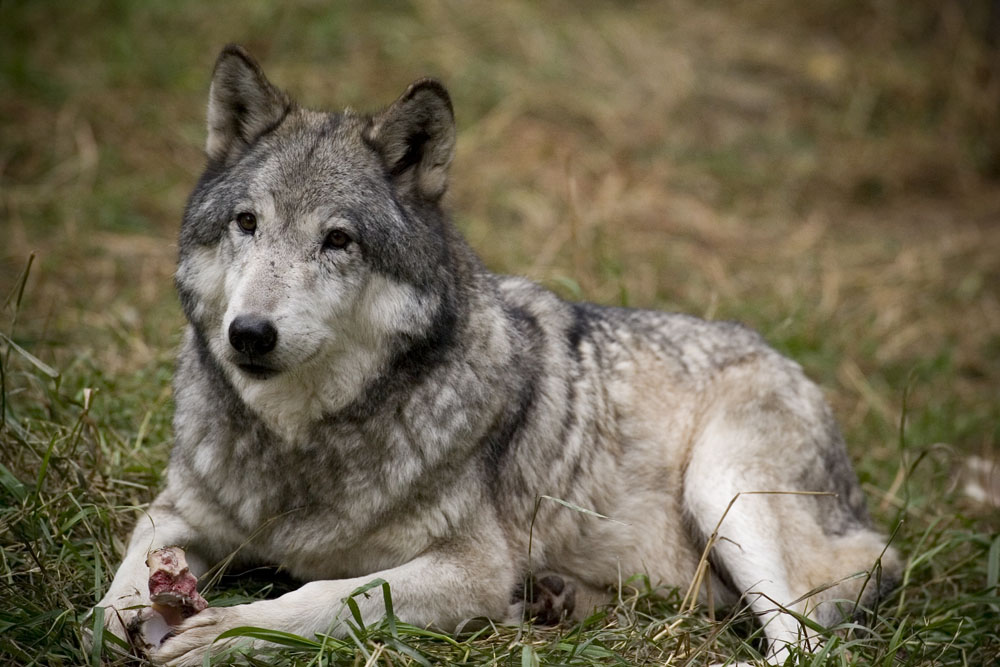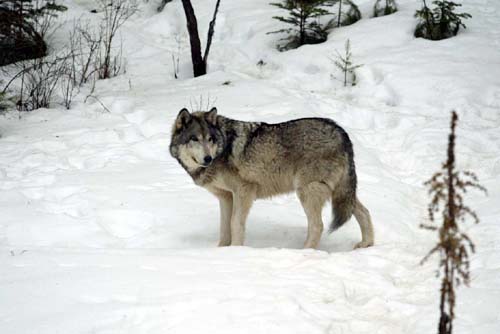 Amani, his name means 'To speak the truth'. He was a large wolf, deep gray coat and usually kept his ears flat out, giving him a sweet and friendly look. He was brother to Matsi and Motomo and a high ranking wolf in the pack that soon took over the alpha male position after Kamots passed away.
He was my sponsored wolf, my first and only for a while. I remember getting the adoption kit as a gift for Christmas (year 2000) from my aunt. I never heard of such a thing, being able to adopt a wolf. I pulled out the sheet to take a look at the Sawtooth pack and read each paragraph twice. I thought about adopting Kamots because of his alpha rank and his personality as a true leader, however Amani kept catching my eye. The picture next to his description was beautiful, the snow on his head and nose making him look playful and the expression on his face was gentle. I followed my instincts and chose him as my wolf to help protect from the hands of the non-caring.
From then on I followed his life, getting updates in the mail and reading about him on the WERC website. I always looked forward to the next story they will post and the information about the rest of the pack as well. Becoming busier with schoolwork and home tasks my ability to check on him became less frequent, but I always made sure I did. In the beginning of January my boyfriend told me about 400 wolves being killed in Alaska from airel gunning. Even though the Sawtooth pack is not located in Alaska, I still had the need to check up on Amani and the rest of his family. As I entered the website the first thing that showed was the picture of Amani and the news that is at the top of this page. As I saw the words 'passed away' I started to cry. I never got to go visit Amani seeing I am too young to travel on my own and too far away, but I was still devastated. Even though I never saw him in my life I still feel like he is a part of me and that part is now missing. I cry as I type this and can't even imagine how his family and WERC must feel with not only him, but all the other losses.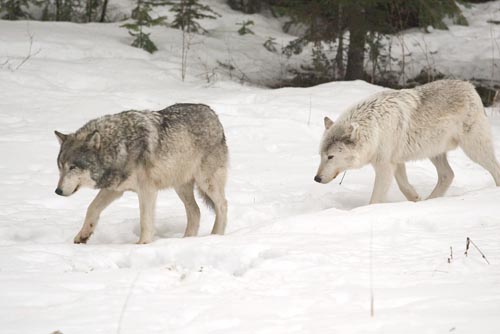 A few days later after I discovered the news I was watching the Discovery Channel because my family had told me there was something about wolves on. I watched and listened carfully, my heart stopping as I hear three familiar names, Kamots, Matsi, and Lakota. Immediately I knew it was the Sawtooth Pack. I continued to watch it and as soon as they mentioned Amani I cried again, seeing footage of him that I never thought I would ever be able to see because of his passing touched me greatly. His body, face, and personality was everything I thought it was, he was beautiful. After watching that film it inspired me to create this website, not only for Amani, but all the other wolves out there in this world.
*~*~*~*~*~*~*~*~*~*~*~*~*~*~*~*~*~*~*~*~*~*~*~*~*~*~*~*~*~*~*~*~*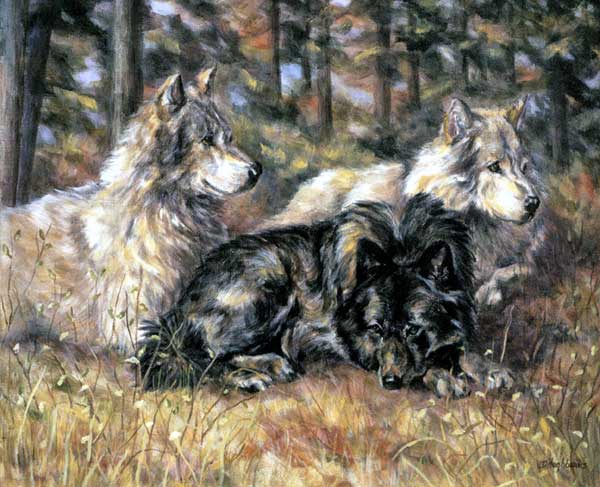 I never saw you in my life Amani, but I know your looking down apon me, licking the tears I shed for you off my face. I know your with you're family now, your brother, free as though a wolf should be without the dangers of humans. The hole in my heart where you once stood will never be completely filled, but will heal overtime as I convince myself you are happy. The stars will have more of a purpose to me now, knowing your part of one now and I will continue to look for that star until my life is through. Though your figure may be gone from touch, I know your spirit still flows within me and your family, your presence be seen with my heart instead of my eyes. We will all still hear the sweet sound of your voice as you talk to us through the wind and trees, your guidance growing strong. I will still mourn for you as the pain of your passing will never be erased and the fact that your gone will always remain true. Please remember me Amani, watch over me as I will look up to you...I love you.
~Kelsey
She who whispers to the wolves